Pennsylvania Eliminates License Suspensions for Underage Drinking and Drug Possession
Posted in License Suspension on November 3, 2018
While everyone knows that smoking marijuana is illegal without a prescription, most people are not aware that smoking a joint in one's home results in a license suspension in Pennsylvania.  With Underage Drinking, again, everyone knows that a person that is under 21 cannot drink or possess alcohol.  However, most people are not aware that an Underage Drinking or Possession of a Fake ID charge can result in license suspension.  With Underage and Fake ID, even if a person avoids a conviction by participating in a diversionary program like ARD, the license is still suspended.  It does not matter that the offenses did not involve the use of a vehicle.  Such suspensions are also not eligible to for any sort of limited license, such as an Occupational Limited License (OLL) or Ignition Interlock Limited License (ILL), that would at least allow a person to drive to and from work, school, or medical appointments.
License Suspension for Drug Possession and Underage Drinking
On October 24, 2018, the governor signed the bill to make the repeal of the suspensions.  Specifically, the new law eliminated the license suspensions for Underage Drinking under 18 Pa.C.SA. 6308 and Possession of a False Identification Card under 18 Pa.C.S.A. 6310.3.  The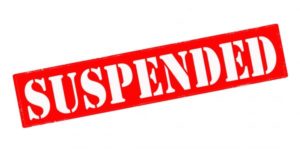 law also eliminated language from the Vehicle Code that imposed lengthy license suspensions for any offense related to drug possession, including misdemeanor offenses like marijuana possession and even felony drug delivery charges.  Convictions of those sentences will still carry the standard penalties associated with any conviction, including a criminal record, a sentence of probation, in-home detention, or jail time, and payment of fines and costs.  However, those offenses will no longer carry license suspensions that prevent a person from working, attending school, or supporting a family.  Regrettably, the law does not become effective for 180 days, so suspensions will continue to be imposed until April 22nd of 2019.
It makes sense that a person convicted of Driving Under the Influence or Driving Under Suspension faces license suspensions because those offenses are related to the operation of a vehicle on Pennsylvania roads.  Suspending a person's ability to drive in response to a driving violation makes sense.  Over the years, I have represented many Penn State students that were charged with Possession of a Small Amount of Marijuana, a low level, ungraded misdemeanor offense, or Underage Drinking, a summary, non-traffic offense, for conduct that was committed in the privacy of a campus dorm room, and those clients faced a lengthy license suspension.  Parents asked me why the legislature would pass a law that basically punished parents because parents were the ones stuck driving the young adults around to summer jobs and summer internships.  It is great news that the legislature realized that the license suspensions were not needed.  While I often disagree with the focus of the Pennsylvania legislature and believe that laws are often passed and implemented that are not needed, this change was needed and made sense.