Furnishing Alcohol to a Minor
In a college town like State College, underage drinking occurs on a daily basis.  Every underage drinker was obviously given the alcohol by someone else, so that someone else faces a possible charge of furnishing alcohol to a minor.  The vast majority of furnishing alcohol cases stem from police raids of Underage Drinking parties or from undercover officers working in liquor stores and six-pack shops in Cops-in-Shops types of programs.  While furnishing alcohol to a minor may frequently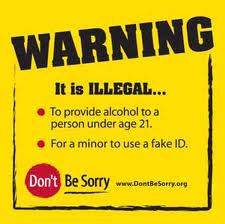 occur on a college campus like Penn State University, that does not mean that the resulting criminal charges are minor.  To the contrary, a person that furnishes alcohol is often charged with multiple misdemeanor offenses, including one charge called Furnishing Alcohol to a Minor under the Pennsylvania Crimes Code at 18 Pa.C.S.A. 6310.1 and a second charge called Unlawful Acts Relative to Liquor under the Liquor Code at 47 P.S. 4-493.  If a large party was busted, a person can be charged with furnishing alcohol to every underage person, so the number of charges can be very high.  If a person is convicted, the possible sentences for Furnishing Alcohol to a Minor are severe, including mandatory fines.  A conviction of a misdemeanor offense can also make it more difficult for a person to obtain a job.  If the person is a Penn State student, the student could face additional sanctions by going through the school's disciplinary process.
ARD Eligibility for Furnishing Alcohol to Minors Charges
Many people with no prior criminal history or only relatively minor scrapes with the law may be eligible to resolve Furnishing Alcohol to Minors charges via a pretrial diversionary program called Accelerated Rehabilitative Disposition (ARD).  Completion of ARD allows a person to seek a dismissal of the charges.  The person can then go through the expungement process to have records of the incident destroyed.  If the records are destroyed, they would not appear on criminal background searches.
What Should I Do? Contact Our Attorneys Today
Given the severe consequences associated with a Furnishing Alcohol to Minors charge, it is very important that you have a criminal defense attorney to advocate on your behalf and try to obtain the best resolution possible.  The attorneys at JD Law have extensive experience in handling furnishing alcohol to minors and alcohol related offenses.  If you or someone you know has been charged with furnishing alcohol to a minor, you should contact JD Law by email or by calling (814) 954-7622 or and schedule a FREE CONSULTATION with an experienced State College criminal defense lawyer.
For additional information, check out this Q&A for Furnishing Alcohol to a Minor.