Penn State University Disciplinary Process
Penn State students that are charged with criminal offenses will often face additional punishments through the university's student disciplinary process.  There is some overlap between the two systems, but, in general, the processes are different.  In some situations, a student is punished for violating the university's Code of Conduct even though no criminal charges were filed.  The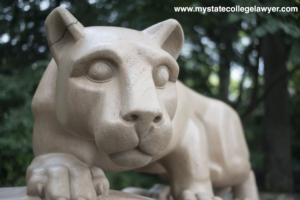 criminal charges are handled through the criminal justice system, and the school's charges are handled through the school's civil disciplinary system.
Criminal System versus Civil Disciplinary System
The criminal justice system is substantially different from the civil system.  With criminal charges, a person charged with an offense is presume to be innocent, has the right to remain silent, and the person's silence cannot be used against the person.  Many of these rights are expressly set forth in the U.S. and Pennsylvania Constitutions.  Hearsay evidence is not admissible at a trial.  The person may have a right to a jury trial in which a person can only be found guilty if a jury unanimously finds that the person is guilty beyond a reasonable doubt.
With Penn State's disciplinary system, the person normally must go through an initial investigative process.  The student is advised of the allegations of misconduct and then given the opportunity to tell his or her side of the story.  The student technically has the right to remain silent, but the silence can be used against the student.  Hearsay is admissible, and Conduct has proceeded with charges based solely upon hearsay.  Evidence that was obtain in violation of constitutional rights can be suppressed in the criminal context, but such evidence can still be used by Conduct.
To summarize, the rules and processes used in the criminal system are very different from the civil disciplinary system.  Because of those differences, the strategies that are used to obtain the best results for a student in the different arenas are often different.  Also, statements that are made in the school's process can be used against the student in the criminal system.
Hire an Experienced Attorney
Students facing criminal charges or disciplinary charges through the Penn State Office of Student Conduct should consult with and probably retain an attorney that has experience in handling both criminal cases and matters with the university's disciplinary system.  It is very simple, an experienced attorney knows the rules and procedures of both systems, and such an attorney knows the "players" involved in both systems.  Knowing the "players" does NOT mean that there is a buddy-buddy system in which friends get better results.  A good attorney knows the tendencies of the other side.  With sports teams, a team will often view tape of the opponent to learn their strengths and weaknesses.  The same analogy works with attorney representation.  An attorney that knows the players is more likely to obtain better resolutions for clients.  Experience matters.  If you are considering various lawyers, here is a review of factors that you should consider when hiring a lawyer.
If you are a Penn State student or parent and have questions about Penn State's disciplinary process, contact an experienced criminal defense lawyer at the State College firm of JD Law via email or at (814) 954-7622 for a free consultation.