Can a charge of Underage Drinking be expunged from the records?
State College Underage Drinking Charge Expungement Attorney
Generally, a charge of Underage Drinking can be expunged under two subsections of section 9122 of the Crimes Code. One subsection allows for the expungement of "non-conviction" data, meaning charges that have been dismissed, withdrawn, or the person was found not guilty. The other subsection allows the expungement of convictions and guilty pleas of Underage Drinking after the person has turned 21-years-old and successfully completed the sentence.
Expungement of Dismissed Charges
As an attorney near Penn State University, I see many cases in which students and parents mistakenly think that a charge that is dismissed or withdrawn is removed from government records and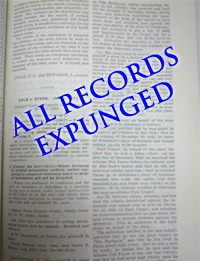 thereby would not appear on a background search.  That is simply not the case.  After a person is charged, there is a record, so charges, even dismissed charges CAN appear on a background search report.  Regrettably, such people often learn of this the hard way after the charge appears on a background search report.  I then receive a phone call and am asked "why does the dismissed charge appear on my criminal record."  Charges do not always appear on a record check conducted by employers.  Some employers hire a background search company to only provide information about convictions, so a criminal history report for convictions would not show information about charges.  However, some employers do search for charges, so it is very important to have dismissed or withdrawn charges expunged.  The only way to have those records removed from the government systems is through the expungement process.  If you want to make sure that a dismissed charge does not appear on a background search, then expunge it.  For more information about the expungement process, click here.
Guilty Plea, Convictions, and Suspensions For Underage Drinking Can Be Expunged After Age 21
If a person is convicted of or pled guilty to Underage Drinking, he or she is eligible to seek expungement of the charge after he or she has turned 21 years of age and has completed the sentence.  Both the criminal records and the driving records can be expunged.  I have fielded many calls over the years in which people call and tell me that they have talked to police officers, court staffers, and even contacted PennDOT, and the people were advised that the driving record could not be expunged.  Ignorance of the law is not bliss.  An Underage Drinking suspension can be expunged from a driving record in Pennsylvania.  I have done it in thousands of cases.  Read 18 Pa.C.S. 9122(a)(3), and you can see that Pennsylvania law expressly states that "the court shall order the expungement of all criminal history record information and all administrative records of the Department of Transportation relating to said conviction."  The law is very clear, an Underage Drinking suspension can be expunged from a PennDOT driving record.
If you want to have an experienced expungement attorney review your case to see if you qualify for an expungement or the sealing of your Pennsylvania criminal record, contact our office.  If you want to make sure that your expungement is handled properly, then hire an experienced Pennsylvania expungement lawyer.