Penn State Marijuana Possession Charge Dismissed
Suspected Marijuana Was Not Marijuana
A Penn State police officer searched the Penn State student's dorm room and found what the officer believed was marijuana. The Penn State officer charged the client with Possession of a Small Amount of Marijuana, 35 P.S. 780-113(a)(31). The Police Criminal Complaint filed by the officer with the State College judge stated that the officer knew the substance was marijuana based upon his training, knowledge, and experience in handling many marijuana cases. Police officers in Pennsylvania routinely assert that they knew that a substance was marijuana or other drug based upon their training and experience as probable cause to arrest or seek issuance of a search warrant.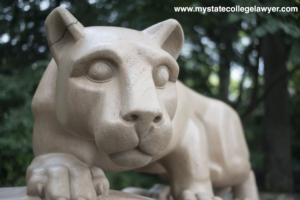 While the officers can give an opinion about a substance when filing charges, the substance is sent to a forensic lab for testing to confirm that it is in fact a controlled substance.  In this particular case, the client retained State College criminal defense attorney Jason S. Dunkle.  Attorney Dunkle reviewed the investigative file that was received from the Centre County District Attorney's Office and the Penn State University Police Department.  The file contained lab reports that showed that the substance was NOT marijuana.  The test results from the Pennsylvania State Police forensic lab showed that the Penn State police officer had misidentified the substance and filed erroneous charges of Possession of a Small Amount of Marijuana.
Pre-trial Motion to Dismiss Marijuana Charge Filed
Because the laboratory report confirmed that the substance was not marijuana, Attorney Dunkle filed a Motion to Dismiss the Possession of a Small Amount of Marijuana charge with the Centre County Court. At a hearing on the defense Motion to Dismiss, the Centre County District Attorney's Office agreed that the Commonwealth did not have sufficient evidence to proceed with the marijuana possession charge filed by the Penn State officer, and the prosecution agreed to have the Centre County judge dismiss the misdemeanor drug charge.  Attorney Dunkle then filed the appropriate paperwork to have records of the case destroyed through the expungement process.